Description
Mutoh 1604 Ink
mutoh 1604 ink Mutoh 1614 Ink Mutoh 1624 Ink Mutoh 1638 Ink Mutoh 2606 Ink compatible to 1204 1304 1324 1604 1614 1624 1638 2606
Mutoh 1604 Ink Mutoh 1614 Ink Mutoh 1624 Ink Mutoh 1638 Ink Mutoh 2606 Ink Cartridges
Lavaink Mutoh 1604 Ink Cartridges Features:
100% compatible to OEM ink.
The same color as OEM ink.
No need to flush out old ink and you can mixed your old ink with Lavaink Mutoh 1604 Ink Mutoh 1614 Ink Mutoh 1624 Ink Mutoh 1638 Ink Mutoh 2606 Ink Cartridges.
Durability up to three years outdoors without lamination.
Richer, more consistent colors and ensures both the smoothest gradations and sharpest photo graphic details.
Brighter, more opaque white for bolder results.
Denser, more reflective metallic silver for added impact.
Virtually odorless, user friendly and nickel free.
Fast drying and scratch resistant for fast, easy finishing and handling.
Wide color gamut for deep reds, blues and greens.
Aggressively adheres to a range of affordable uncoated media.
Mutoh 1604 Ink Mutoh 1614 Ink Mutoh 1624 Ink Mutoh 1638 Ink Mutoh 2606 Ink Cartridges "Not Original" Issue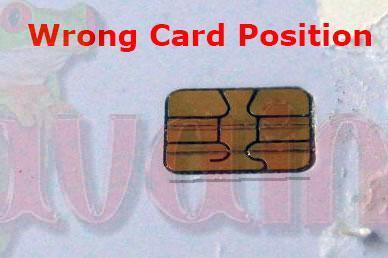 Some reasons to fail to read smart card chip by Mutoh VJ 1604 printer:
smart card chip does not work.
smart card chip reader does not work.
smart card chip position is wrong.
smart card chip version does not not match mutoh vj printer firmware version.
Smart Card Position should be kept exactly the same position otherwise it will cause "Not Original" error.
Since two different cartridges of different colors are not working, it's unlikely that the problem is due to the cards. However, there is one more thing that you might want to check, and that is the position of the cards.
Make sure that your card is placed at the correct distance from the edges of the cartridge as shown in this picture:
Furthermore, in case the card is too thin and is not touching the card reader, try elevating the card by stuffing paper under it to raise it by up to 3mm. This will make sure that the card makes sufficient contact with the reader.
If this still does not work, see if you have any used cartridges bought from us previously. When you insert the used cartridge, it should display "Nearing End of Ink". However if it still displays the "Not Original Ink" message you currently have, then it means something is wrong with your card reader.
If you follow these steps and the problem persists, it most likely lies within your card reader and not the cartridges.
Mutoh 1604 Ink Mutoh 1614 Ink Mutoh 1624 Ink Mutoh 1638 Ink Mutoh 2606 Ink Cartridges
Mutoh 1604 Ink Cartridges same color VJ 1204 1304 1324 1604 1614 1624 1638 2606
Mutoh 1604 Ink Cartridges Mutoh 1614 Ink Mutoh 1624 Ink Mutoh 1638 Ink Mutoh 2606 Ink 100% compatible to OEM ink smart card works for all firmware version lowest price