Description
Customized LED UV Lamp for Agfa, Mimaki, Mutoh and Roland
Lavaink provide all LED uv printers Customized LED UV Lamp at the lowest price with the highest quality.
led uv lamp has two kinds of lamps.
The First one is that (Just a few lamps) Electric Relay ON/OFF switch button is at inside of the led uv bulb and see reference photo at
These kind of lamps have Mimaki LED UV Lamp and revotech led lamp. We can repair Mimaki LED Lamp at the moment at 1150USD.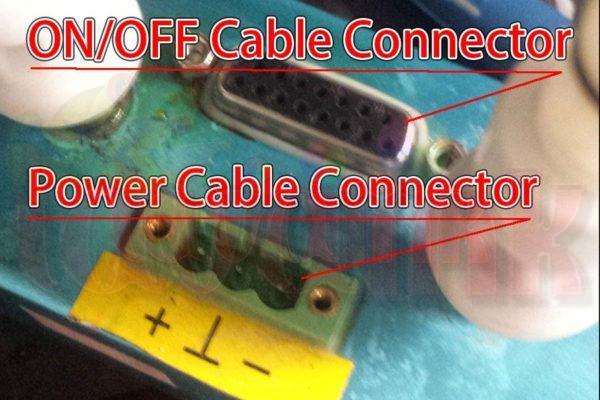 Solutions for this led uv lamp:
You need to send your old lamp to us and we will product it within 3~7 days. And for Mimaki led uv lamp, we only can repair it at the moment.
We can customize a totally new led lamp with new power supply and this is standalone led uv lamp. just need your help to find out led lamp shutter signal control cable. This cable is low voltage from 5~30 V normally. Then we will give you full led uv lamp system with full installation instruction.
=================================
For this kind of lamp, you just need to email us your lamp voltage and power and current and dimension, we can send you led uv lamp within 3 days upon we get full payment.
=================================
Buy Customized LED UV Lamp
We provide you water cooling led uv bulb and fan cooling led uv bulb.
Today, most of customers who used water cooling led uv bulb.
Water cooling LED UV Lamp has the following advantages over fan cooling led uv bulb.
LED UV Lamp lasts up to 18,000 hours (3 Years).
Water Cooling System: Minimal impact on printing accuracy compared to air fans.
Water Cooling System: Maximum LED UV lamp life compared to air fans.
just email us your requirement for led uv bulb.
Control ON/OFF button: Your ON/OFF switch button is inside lamp or outside? most of companies led uv printer follow industrial standards to keep ON/OFF switch is outside of lamp.
Power: Your led uv bulb power. you just take your led uv bulb frond photo to us and we will know how much power for your lamp. Normally, one led bulb has 2~3 watts. How many led bulbs for you lamp and multi it and can get your led bulb power. Like if you led bulb has 48 bulbs and your led lamp power is 48*2=96 watts. And get your led uv bulb power is 100 Watts.
Voltage: Your LED uv bulb voltage. You can check your power supply out put to know the lamp voltage. and you also can let certified electrician to measure the voltage.
Dimension: You should measure your led uv bulb length, width and height.
Screw position: This is for your installation and you need measure it in mm.
Just send us your old led uv bulb to us if you are not sure the above parameters.
We can customize any led uv lamp including the whole system power supplies, water cooling system.
Customized LED UV Lamp
We need you send us the following information to customize your led uv lamp:
fill in form
[formidable id=19]